Hacienda style villa (205 m²) with 5 bedrooms, 3 bathrooms, 2 detached studios, swimming pool, garage and garden (2865 m²) in Roquefort des Corbières (11540 - Aude)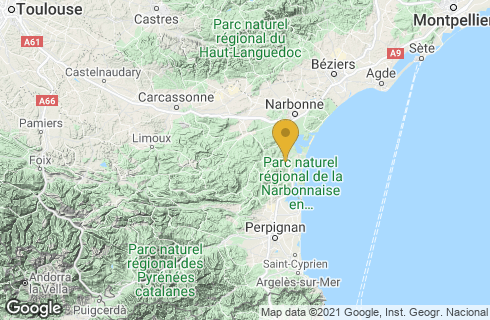 The house (1992) immediately gives you the feeling of being in a special place and is reminiscent of a Spanish hacienda. The fully enclosed Mediterranean garden with impressive palms offers an oasis of peace and privacy. The 2 detached studios and 2 indoor guest studios, but also the short distance to the important motorways and the coast make it an ideal location for rental and bed and breakfast.
The property consists of 2 large adjoining gardens and a vegetable garden, each with its own entrance gate to the public road. The main house consists of 3 parts, the central part with an upper floor and two guest houses in the left and right wing. In the second garden there are 2 studios, a large fish pond and a large shelter.
Centre
Hallway entrance (6.9 m²) with toilet (1.2 m²) for general use. Cosy living room (45 m²) with fireplace and covered terrace at the front and back. Wooden stairs to the upper floor with a spacious master bedroom and bathroom (40 m²) with bath, two wash basins and toilet and a covered balcony terrace with a beautiful view. Next to the living room is a multifunctional room that can be used as a bedroom or an office for example.
Left side wing
Guest rooms (50 m²) with private entrance, toilet, 1 or 2 bedrooms, living room with open kitchen and bathroom. Terrace with access to the garden and swimming pool.
Right side wing
Spacious dining kitchen (20 m²) without kitchen cabinets and kitchen appliances. Guest rooms (17 m²) with private entrance, bedroom and bathroom. Terrace with access to the garden and swimming pool.
Garden
Large swimming pool (56 m²) in a kite form with an overflow, walk in steps, pool shower and sun terrace and sunbathing lawn under the palms. BBQ outdoor kitchen with covered terrace. Large garage (35 m²) with attic, pool installation, hot water and heating installation. Carport and sufficient parking space on private property. Next to the house is a detached conservatory with sliding windows, fireplace and terrace. Lovely for the winter months but can also be converted into a guest house.
Studios
The detached studios in the second garden are simple and contain a living room, bedroom and bathroom.
Miscellaneous
The house is insulated and has tiles and floor heating, wooden windows and doors with double glazing and wooden shutters, wooden front doors. Due to circumstances the seller could not finish the started modernisations but the house is ready to move into.
Surroundings
In the immediate vicinity there is a children's playground, a sports field, tennis courts, a shop and a bistro with a terrace which guests will certainly appreciate. At a distance of 6 km, there is an inland sea with water sports facilities. A few kilometres further are the wide sandy beaches of the Mediterranean Sea, harbour villages like Leucate and Port La Nouvelle, African animal reserve in Sigean, motorway A9 and D6009. A beautiful tourist area where many people come to visit.
Distances
Beach 10 km
Narbonne 25 km
Perpignan 45 km
Energy - Greenhouse gas effect
Low values means less expenses and better for the environment.
110
27